It's taken two years to get to this point, and a number of delays, but I've finally got everything nailed down. No Honor Among Thieves is currently seeking funding on Kickstarter.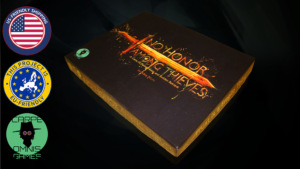 Before I head back to feverishly attending to my new campaign, I'd like to take a moment to thank everyone who helped me get this far. Thanks to the playtesters, to my friends who called me on my bullshit and the people at conventions who took a chance and sat down with an unfinished game. To the artists who did all the hard work on making the cards look good. To the professionals who bore with me while I got everything lined up for my first ever crowdfunding campaign.
Now it's time to make this thing shine.
Assemble your crew. Make your plans. Take it all.