Over the weekend, I moved Carpe Omnis from the WordPress.com hosting that I'd been using for the past four years of its existence to a paid host where I can control the style and functionality of the site much more to my liking. If everything worked correctly everyone who subscribed to my blog either via email or through the WordPress.com Reader app should still be subscribed, and get updates as I continue to post about tabletop games, No Honor Among Thieves, fiction, or whatever else the topic of the week is. The new design may change in small ways over the coming days and weeks as I continue to relish the fact that I can tweak it.
I've been holding off on posting about this until I had the new site up, but now that that's done it's time to remind people about Carnage.

I'm going to be demoing No Honor Among Thieves at Carnage on Saturday, from 1-5 in the afternoon, along with a number of other local game designers. If you're going to be in the area, stop by and play the game.
I'm going to have the printed card prototypes I got before Comic Con, as well as new Objective mats to provide people with something to steal from besides my cardstock scribblings.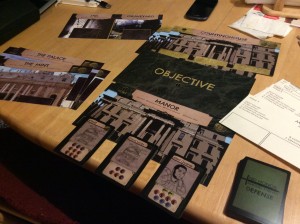 ---
Here goes the new Carpe Omnis, same as the old. Soon to come: more Shadowrun writing, more art, more development blogs, more writing about tabletop game theory and, if we're all terribly unlucky, more poetry.
Strap in, people. Things are starting to come together for a number of projects I've been working on, and I expect I'll have more to post about very shortly.