Preorders No Longer Available
Manufacturing and shipping has begun, and thus preorders for No Honor Among Thieves are currently not available. If you want to be notified when the game goes up for sale again, sign up for the Carpe Omnis Games newsletter.
In a City of Rogues
Maybe you're a kid from the slums too smart for your own good. Maybe you're a disgraced noble, stripped of title and fortune and desperate to reclaim what once was yours. Maybe you just don't want to spend another day hard at work for nothing in return. Whatever your reasons, it's time for the world that has taken so much from you to give something back. The rich and powerful of the kingdom keep their wealth safe behind barred doors and armed guards, but you know a guy who's good with locks and another who's good with his fists. Or you know someone who can climb like a monkey, and someone else who could charm the fangs off a snake. How you do it is up to you. The important thing is that there's gold there for the taking, and you're going to take it all.
Assemble your crew. Make your plans. And make sure to keep a careful eye on everyone else, because everyone knows there's no such thing as honor among thieves.
---
A Game of Daring Heists and Sudden Betrayal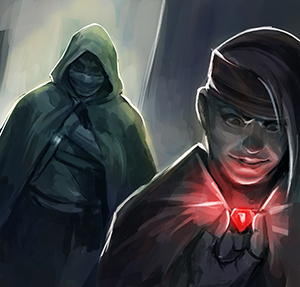 No Honor Among Thieves is a competitive/cooperative card game for three to six players, in which each player assembles a crew of thieves and sets out to see who can steal the most lucre from the rich and powerful of a fantasy city. Working alone is difficult, but working together leaves you open to treachery by your so-called allies–or gives you the chance to betray them, and take it all for yourself. An unspoken code of honor exists among the thieves of this city, but that won't last past the first betrayal, and once that uneasy trust is gone the game gets more dangerous as players gain access to additional underhanded abilities.
---
---
No Honor Among Thieves Blog